Blogs
---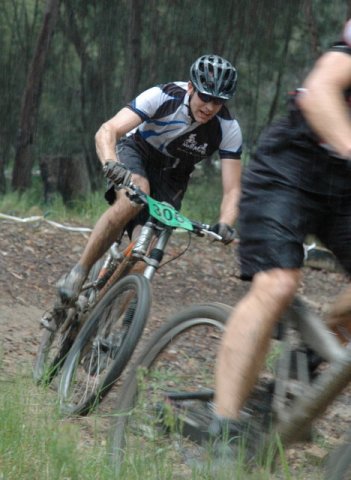 As promised the Merry Cross-mass cup was muddy, but fun. To be honest I found the short track race format a little odd, but eventually cottoned on to the nature of the beast. Like anything it takes a bit of getting used to so sure next time will see better times and a more comfortable ride.
Well, not that the format had anything to do with the comfort factor this time I guess. Mud, mud, sand, rain and mud were probably deciding factors in that.
Did a couple of reccy laps on both bikes and found the short track wet and slippery as expected. The one pinch climb didn't seem so bad, how hard could this be?

So, again it's time for a chain change. Since the last one the Rush has done 994Km according to MotionBased. Which is a good deal more than the 400Km the first one lasted so that's good right?
Well, almost.
I'm sure at the last check just a week or so back the old chain was < 0.7% but suddenly (after Muddy Xmas Cup) it's past that point and gone on to be just over 1.0%

Some great and very true words from Mountain biking for fitness in 2008 || Mountain Bike Blog || SINGLETRACKS.COM. Click that link for the rest of it, but here's a teaser:
Let's start with first things first: mountain biking is fun. Honestly, the word "fun" doesn't really do justice to what it's like to bomb down a narrow trail through the woods, adrenaline pumping and endorphins popping. Mountain biking is exciting and it's the kind of thing that millions of folks dream about while they're at work. Ever hear of a co-worker gushing about the great time she had at the gym on Saturday afternoon? I didn't think so.
'nuff said - get out there!
It was last Sunday afternoon as I set off for a lap of Cascades and the Showground sniggle. I nearly didn't go because it was drizzling.
For those who know me, I'm back! For those who don't, I had a nasty accident in Canberra on the APEC long weekend early in September. I thought I was 21 again and tried a jump that might have been a little above my limits.
Anyway, after a week in Canberra hospital, a broken left arm and a real bugger of a dislocation with ripped tendons, nerves and muscle in the right (so painful I didn't even realise I'd broken the left!) I've been recovering slowly and still haven't got full movement back in the right arm.
So as many of you know I have been off due to an unfortunate incident at Manly Dam over the October long weekend which resulted in a nasty break at the Radial Head of my elbow. After Surgery inserting plates and screws to help set the bones in place I have been back to get assessments on how my bones heal....
As it seems I am healing "as good as can be expected" came from the surgeons mouth...might i mention that he has a striking resemblance to Dr Spengler from the Ghostbusters (both Mel and I now find it hard to look him in the eye without a rye smile).....

Most people would probably see this as sensitive personal information, but then again, I'm a little odd so will share. Perhaps other people would find this useful...
As a few of you know, I've not had the best run of luck in the last few marathon events, and have mainly put this down to sickness, nausea, etc. Despite trying to eat well in the lead up and during rides the stomach would just not be able to take in enough fuel and when that happens a DNF is pretty much always on the cards.

it was very cool at the 8 1/4 hours ride - a good crew of NobMobbers and a beautiful day - well a bit hot is all. Tracy and I were entered as a Masters Pair - unfair they don't have Mixed Masters Pairs in our opinion, but hey we are about enjoying the ride not competing - usually. Anyway, we managed to nudge the vehicle in near the shade and set up with the gang. We were cunningly placed about 100m up the track from the transition where we could in fact have our own transition zone.
Well here's a quick summary of this years 8 ¼ Hours of Power at Ourimbah. It didn't start off well as we lost one member due to illness before the start so that left Harry and I to ride in a pairs team (I was hoping for a cruisy day!).