The Turner goes Single Speed with Full suspension
---
It's time to join the off road single speed crowd, so decided to do a conversion of the Turner 5 Spot.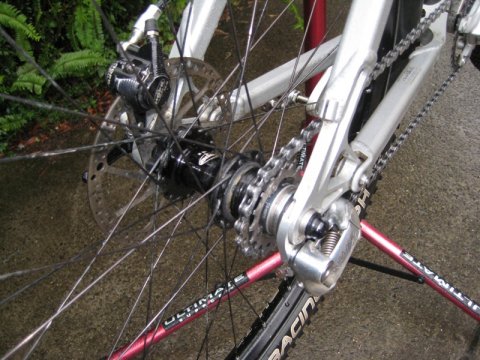 This is a 5.5" travel machine, so it needed a tensioner for the chain, as there's 15mm chain 'growth' between uncompressed and full travel, quite apart from the fact it has fixed dropouts.
So to do it on the cheap, I used an old road derailleur, and an old cog from an XTR cluster.
The cog is on an alloy carrier with a wide base so it will be nice to my alloy hope hub. It also has a 16t cog on it, so i can raise the gearing for road riding to the trails by adjusting the der limit screw.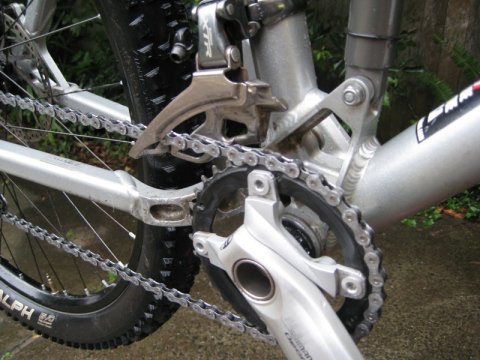 On the front I've used a 32 front ring on my XT crank, and left the front derailleur on as a chain guide. To keep clearance from the chain stay as it compresses, the derailleur has to sit fairly high. I'll get a MRP top guide for it later on to tidy it up and give more guidance for the chain.
The gearing is 32:18, which with a 26 x 2.2" tyre and 175mm cranks is 47.9 inches, and a ratio of 1.78:1
Overall dropped 900g, so its sitting at 11.5Kg, which is not too bad considering it's a 6.1lb frame (2.8Kg).
It feels good so far, yet to do Heart beak hill at the Dam though!