You are hereClassifieds / For Sale: Marin Mount Vision 120 5.7 Near new with upgrades
For Sale: Marin Mount Vision 120 5.7 Near new with upgrades
---

Item: Marin Mount Vision 5.7 medium frame
Location: Northern Beaches, Sydney
Item Condition: Perfect!
Reason for selling: consolidating bikes.
Price and price conditions:$2200 ono (paid $3450 for the bike plus spent over $1000 on the upgrades.) Or $1900 in standard form, with Mavic 317 rims on shimano rear hub and Marin front, basically new Ignitor tyres, FSA stem and I will also include the Joplin to sweeten the deal.
Extra Info:I've had this bike since April this year. I bought it new and it is a 2010 model. I've upgraded a few things on it, like put a set of UST Mavic 819 rims with XT hubs a remote lockout lever for the forks, a Pro Kovarak 70mm stem, XTR front mech and a Joplin seatpost. I've also had protective clear on the top tube, rear swing arm and a few other spots. There is a chip on the down tube that has been brush touched and one of the brake levers has a graze from a small stack. I can include either brand new Shimano AM clipless. Or basically new Fireye pedals.
This bike is an awesome do anything and everything bike. It'll tackle any descent and climb any mountain. It's smooth and supple suspension let's you sit in the saddle all day with no effort, this bike really comes into it's own when the rear suspension is being worked hard. It creams rocky and techy climbs, and just rails smooth switch back style single. I really don't want to sell this bike, but it has to go.
Spec list; - Marin Mount vision 120 5.7 medium frame.
- Fox 32 RL forks with remote lockout (15mm)
- Fox RP2 rear shock
- Standard Marin AM bars
- Standard Marin lock on grips
- Pro Kovarak stem 70mm (alos have the standard 110mm FSA stem if you want it)
- Elixir 5 brakes.
- 180mm XTR front rotor and 160mm XTR rear rotor.
- Mavic 819 tubeless rims on XT hubs with Panaracer tubless tyres. Currently setup as tubeless. Or can make it cheaper by supplying the standard Mavic 317 rims and Shimano/marin hubs which are basicly brand new.
- SLX 175mm cranks
- XT rear mech
- XTR front mech
- Joplin Seatpost
- Either Brand new Shimano AM clipless or Fireye flat pedals.
Pictures: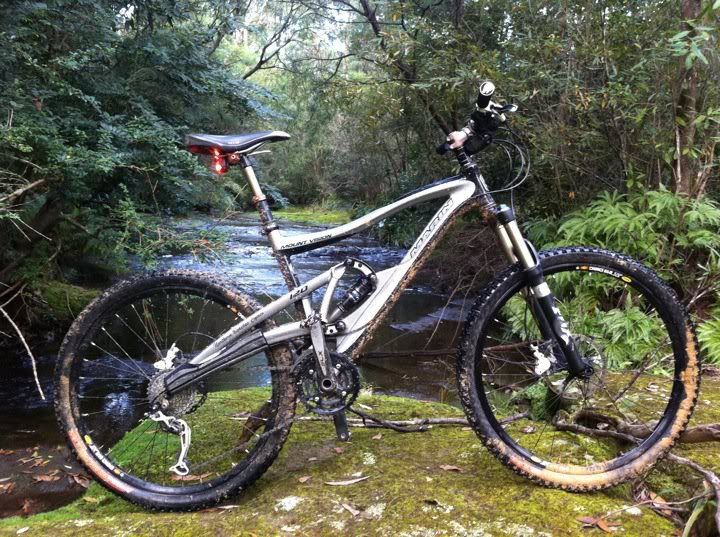 If you want more pics, just let me know.