You are hereForums / NoBMoB News / Riding (or spectating) options for the coming weekend
Riding (or spectating) options for the coming weekend
---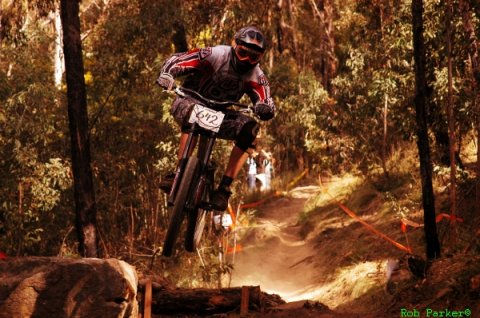 Time to take a quick look at your various mountain bike options this weekend - Sep 28/29 if you're reading this late
Early Saturday morning, for those that fancy a trip an hour or so up the road there's Geoff's Ourimbah Burn ride. I'm guessing this is just a warm up for him, because as he explained in another post...
I'm participating in the Great Cycle Challenge throughout October, I have pledged to ride 1000km for the month in support of the fight against children's cancer.
Good on ya Geoff! To show support, why not go have a couple of laps on Saturday, or online, see:
https://greatcyclechallenge.com.au/Riders/GeoffG...
Closer to home, on Sunday there's Hawkeye's Duck Holes, Centre, Perimeter, St Ives Sniggle & return. Sounds like a nice little loop... I might even show up
Finally, if you're wondering about the image, don't forget that on Sunday the 2013 NSWMTB State DH Championships are being run up on Hassans Walls. Our good mate Flynny from CTMBC is running around like a headless chook with all the last minute preparations but asked us to pass on this invite...
Feel free to come on up and see why the states best downhill mountain bikers love coming to Lithgow. Great action packed weekend with plenty of spills and thrills for spectators all for the cost of a donation for parking.

Parking is within the Lithgow Pony Club grounds in Sheedies Gully, just off Hassans Walls rd.
So there you go. Riding or watching, get out there and enjoy