24 hours of heaven, hell and everything in between
---
Race Category:
4/Mixed/40+

What a weekend, and in my opinion the best 24hr race ever, on the best course of flowing fast tacky singletrack. Our team, Mixed Nuts was ade up of Steve01, Gazza, Martine and myself (Whisperer), and contested the mixed 40+ fours.
It was great to be in amongst a huge NobMob contingent, with the spirits running high.
I set off early on Friday morning and convoyed it down there with Steve01, Bruce and Evan to get there in time for a good campsite position close to the track. Lorrie and Delicious were on their way too, and managed to get there before us, but even then the locals had claimed the choice positions, and we were destined to be a fair way back from HQ and transition. After scoping out the sites that Lorrie and Delicious had claimed, we settled on a larger area nearby that would work for us all. That quickly became camp NobMob as the teams rolled in through the day and into the night.
After setting up our camp, Steve and I went out for a sighting lap, and we new we were in for something special, even though it was already a bit dusty and loose in places. On our first lap, Steve was hitting race pace sliding his rear tyre around the tight singletrack and pivoting through the corners. I hadn't intended to go quite so fast 'out of the blocks' but it was fun following so I did my best, and my grin just got bigger as we went along.
Martine and Gaz arrived in the evening with Rob, and joined the camp. Big bowls of pasta ensued washed down with two bottles of red wine (thanks Martine!), and the fun began. We were discussing how good it would be if we had a bit of rain to dampen down the track, and low and behold, a storm stated to build.
Reports were coming in from as far as Sydney to batten down. Someone was watching the radar and said it had red patches coming our way...(red is the heaviest rain on the scale). The storm hit and it was huge, with a huge downpour and gale force winds bringing the rain in horizontally. We huddled under our tarp till it passed, drank more wine and wondered what we had summoned...
We woke to perfect conditions for race day, and it was looking good for a fantastic race. The ground had soaked up the rain, the dust was gone, and reports were coming in that the track was perfect. The morning went by quickly with last minute preparations by everyone, in fact so quickly we had to rush to the start. It was a le mans start, with a 400m run to the bikes. We carefully chose a spot for me to stand with Steve's bike and he went back to the start line for the run. Unfortunately, we didn't realise we had to be 'further up the hill', and I had to take his bike up and try to find a spot. It was jam packed, and the first spot was another 150m or so. Gaz and Martine came along, and I then sent them down to let him know where we moved to. They didn't make it in time, and were faced with a wall of running cyclists coming at them. Steve went passed in blur to where his bike 'should have been', and then ran some more. But he thought he must have passed me, and ran back down the hill. Confused, he ran back up and finally got to me. All I can say is he was *not happy*, as most of the field had left by then, and he had about 400 riders to pass.
Steve did his best to get through the processions of backmarkers and 'smashed it' on every fireroad section or other passing opportunity. He passed over to Martine for the second lap, who held our position, then over to me for third lap. I must have passed about 40 or 50 riders, and by then we were through most of the backmarkers, and over to Gaz to really start our race. We continued to peel off the laps, and when I came in on the dusk lap and handed over to Gaz, he gave me the most amazing news I think I'd ever heard - we were in FIRST PLACE in our class!!!
The euphoria that hit was amazing, and we regrouped to check our strategy for the night. We were going to do singles up to 11pm then doubles through to 5am, and back to singles to keep the pace high. Steve did a really hot night lap at around 10pm, and Martine was about 3 minutes behind in getting to transition, so poor Steve had to go out for a second lap earlier than expected. He came back again *not happpy*, asking if this Mont was the 'let's the pick on Steve race'... There was a silver lining though, as he'd done his double and could get a decent night's sleep until he went out again in the morning.
I went off for a massage, and thought I'd get some cooked food for a change, so had great expectations of a steaming nachos, with hot running cheese and tasty meat sauce on crisp nachos. Nothing could have been further from reality... The worst Nachos in the history of take away food - and to add insult to injury it gave me a severe stomach cramps later in the night.
The night laps were a blast, but I do have to improve my lighting, a single ayup narrow beam is not enough on the helmet for me, and I couldn't really let it rip as I'd like to. (I did have an intermediate on the bars, and that was fine). Looks like I'll be joining the DIY lights crew soon!
24hr racing is really about how the team copes at night. You come in hot and sweaty, it's bl00dy cold as you change, you rug up, get some food into you, prep the bike for the next lap, oiling the chain etc, fill you camelback, choose your next set of dry riding gear, lay it all out, with arm warmers, leg warmers, choices of shells or under-thermals, set the alarm clock and get a couple of hours before you get up, dress, warm up, have a coffee and get to transition as late as you can so you don't have to stand around too long as the last rider comes through.
I got the dawning lap, but was in quite a bit of distress as the Nachos was coming through, with everything else.... 4 trips to the toilet and on the bike feeling like crap. Pulled a 1 hr 1 min lap, then handed over to Gaz, and headed back to the campsite. I was pretty green for about 2 hrs, but started to come good just before my last lap. By then we were in second place and holding 15 minutes over third. We all decided to hit it hard to the finish and make sure we held that position.
The next lap was my favorite of the race. I had most of the lines dialed, the surface had packed down hard on the racing line, and I was feeling good again. There is nothing quite like the sound your tires make as you really lay into corners on a good grippy surface, runching left and right with a grin that wrapped ear to ear.
Gaz did the next lap and smashed it, coming in at 11:59, and Martine went out for the final one, even though we had 2nd wrapped up. We thought that if the first place team had a mechanical or something we could nip them. She did well, and had her best lap of the race. Martine did amazingly all through the race. It was her first team MTB race, although she'd done a number of the 100's. She stepped in with a bunch of pretty hard core guys, laughed, joked and really added to a fun weekend.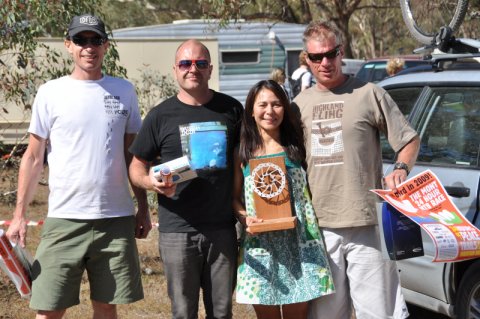 So, we took out second place in our class in a hard fought race, even though there were not a lot of teams in our class those that were were going hard!
As others have written, a lot goes on, and this is just a snapshot. We went to heaven, hell and everything in between and came out grinning!
W.