25,000km service for the Scummer
---
After deliberating buying a new road bike, what with the exchange rate and having already updated my mtb race bike this year I decided to rebuild my trek scummer.
It has some sentimental value, as it's a team issue US Postal Trek, Carbon OCLV. It's the same model frame Lance used to win the Tour de France in 1999! I bought the frame in 2000 on the way home from watching the Olympic's road race. There it was, a new frame hanging up in Clarence st, for $2000 down from $3000. I had a 1 year old 9 speed Dura Ace (7700 series) groupset on my 'old' Stuart Columbus SLX steel frame, and moved it across for a really nice bike.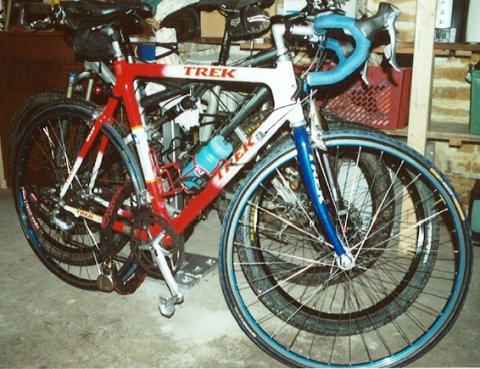 Fast forward 9 years (10 for the groupset), and the Trek was really tired. Chipped and scratched paint, clear coat going on the alloy, and a worn out drive train. But, credit to Dura Ace, the crank, original bottom bracket, rear derailleur, brakes, front hub and shifters were still ok. Everything just needed a really good service. I deliberated going to 10 speed, but the added cost of crank and shifters was the deal-breaker.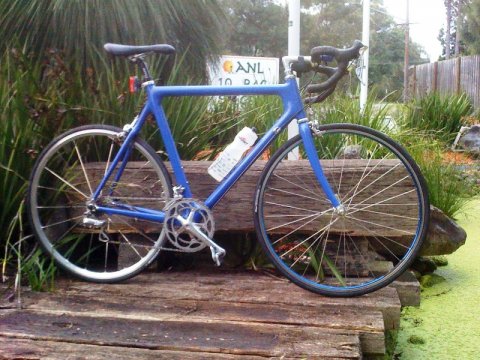 So I stripped it down, sanded it back and gave it a fresh coat of paint (the colour is lapiz lazuli if you must know). That was quite a challenge for me as paint technology has come a long way since I used to spray good ol' acrylic laquer (car paint), and now it's all very specialised with 2 pack primers, base coat, then a two pack clear over the top. Much intermediate sanding with 600 and 1200 wet and dry brought it up really nice, but the gloss on the frame is 'off the gun'. Didn't win to many points at home with volitile paint fumes drifting through the house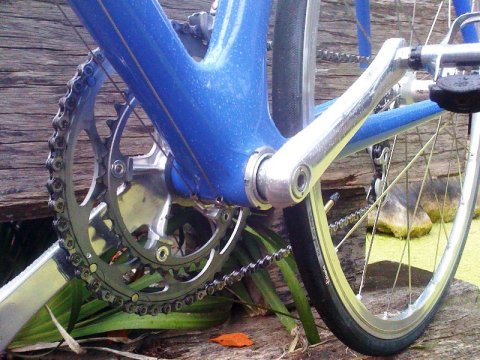 The bottom bracket is an original ti spindle octalink, but it is on it's 3rd re-grease. Don't you love the flowing joins in carbon frames!
I put a buffing wheel on my bench grinder and polished up the crank and all the other alloy bits - there's nice alloy under the clear coat! I love the fine forging on the spiders of this crank. I fitted Ultegra 6600 rings and cluster, a Dura Ace/XTR chain and SRAM joining link, so it's easy to take off and clean.
The rear freewheel was worn out, (the second one on the original hub), so I bought a new Ksryium Elite wheel for the back and saved over 150g on my old wheel! CRC had them on special, and cheaper than I could build myself using a decent hub and rim.
This derailleur is bulletproof - 10 years old, and just needed a re-grease & lube!
Some fresh cables, new bar tape and the front end is like new. No matter how hard I tried to justify a new wheel, the hub bearings were perfect and the ambrosio rim still true. At least the blue kind of matches the frame! The vintage of the frame shows - an 'old' cinelli quill stem holding the bars.
The picture aren't the best - from my phone in the misting dawn light on Tuesday morning - It was starting to rain, and I thought I'd better snap a few pics before it got it's first wet outing!
So it's a joy to ride again, and should give a good few years more service. I was a bit worried about the longevity of carbon, but when they made this one, it wasn't in the 'ultra' light construction used today, and had alloy inserts in the bb, headtube, drop outs and the fork crown. I've given it a really hard flex test in all directions and no cracks showing, creaking or other signs of weakening.
Whisperer