Derailleur Hangar Repair - disaster averted!
---
The Scummer's been an absolute joy since the rebuild, and I've been out getting in some long hard k's while the tracks have been drying out after the rain. But, disaster struck last week, a 'slam' gearchange, going onto the big ring at the front while shifting to one of the bigger cogs at the back with too much load (I should've known better), and the rear derailleur twisted out of the hanger, stripping what was left of some very tired thread after nine years of use. With a road bike, the hangar is usually permanently attached, and in my case, bonded into the carbon frame. So replacement was not an option, and normally this would be time to retire the frame...
Back in my toolmaking days we used to use helicoils to repair stripped threads on machinery and engines. So I measured the thread, it's a very fine 10mm thread with 1mm pitch, and sourced the bits to fix it. Turns out that was quite a mission, because they are a pretty specialised tool, and the size is not mainstream. Anyway, after a few days of ringing around at lunchtimes, and some web searching I found the bits I needed.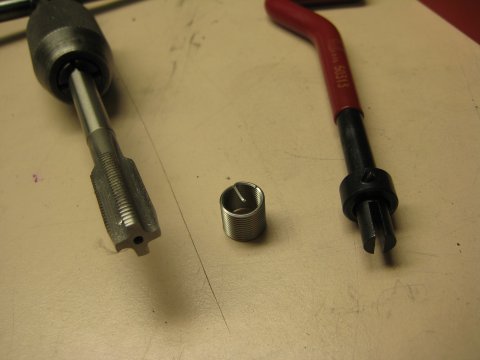 A helicoil (or Recoil in this case - different manufacturer) is a stainless steel wire insert that goes into a larger diameter hole with the same thread pitch. So in this case, it was a matter of tapping out to 12mm by 1.0 pitch to take the wire. The tricky thing is straightening the hangar before drilling and tapping, and keeping it all perpendicular, so the thread is aligned and really cyclindrical because it is so shall0w, and you definitely don't get a second chance!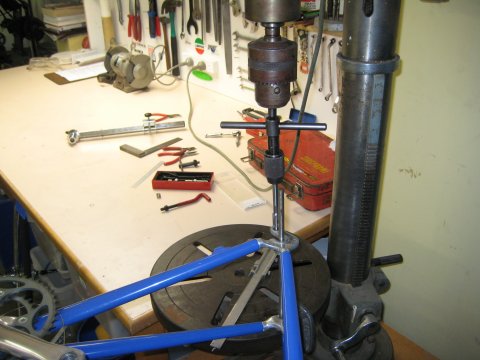 I set up the frame in my bike stand, and adjusted it to get it in line with the table on my bench drill. I've kept the tap in perpendicular by putting a centre in the drill chuck, and applying a slight downward pressure into the corresponding centre hole in the tap wrench while turning the wrench by hand.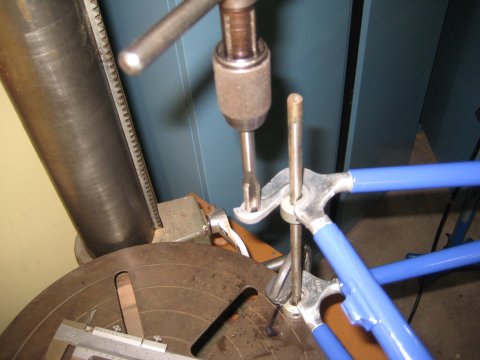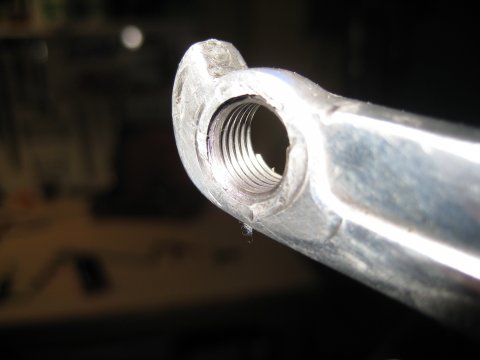 The finished item - after fitting the insert, cutting it off flush I've got a a nice new thread, and a new lease of life for the old scummer (again!)
Whisperer