Already planning an encore
---

Wow! What can you say about this trip... this place... that can do it justice? I guess you really can't so this will probably seem a bit short:
It seems like an age ago that a very brave Supagav posted up this trip and left it open to all. Amazingly brave but it worked out beautifully, and many thanks to him and V and the folks over in NZ for taking care of so much of the organisation.
This was a bit of a strange experience for me to be honest. Usually taking care of every detail of a trip, but this time was able to just turn the brain off and wonder around, eating when food was shoved under my nose, getting in the van when everyone else did, sleeping when tired, pedalling when there was a hill to climb and grinning like an idiot when there were sweet, flowing berms to follow. It was all a blur, but that just about sums it up!
And that's how it went, for 7 days straight until it was time to say our goodbyes.
Everyone got on amazingly well, especially given our close quarters, group meals and travel. There were a few off trail moments too. Most notably - the hot pools on Lake Rotoiti, the jigsaw puzzle, the fishing stories (and the fish).
Then there was the riding. Just epic! These trails are heaven! Very smooth with only a couple patches of rock and a few more roots. On some trails just about every corner consists of a perfectly crafted berm. Flow? You've never seen anything like it! Grip? This place was what the phrase 'railing a berm' was coined for!
We met a few locals who tell us that the local club (which I'm a bit confused about - who runs Ride Rotorua then?) has an 'adopt a trail' policy. There's apparently a list of who looks after what trail and if you think a certain spot is getting a little worn you just get hold of the 'parent' and ask them to sort it out. For the FR/DH crowd, anything goes - as long as you put 'XXX' signs to mark what might be considered a bit tricky the guys can make a trail as technical or challenging as they like. And clearly this system works!
Stats for the week were something like (and these are not exact due to a dead Edge day 2 - awaiting Tien's data to complete):
Days there: 7
Days with a ride: 7 (like - durh!)
Hours on the trail: 22-ish
Distance: 172-ish km
Vertical: Little over 5000m probably
Average speed: 7.7km/h (yup - this was a social outing!)
Max speed: 51km/h (probably on semi-flat fire trail - all the DH was done on sniggle of course!)
Pictures taken on the trail: 231
Most eggs eaten at breakfast: 22(?)
Longest continual climb even ridden: 406m vertical (Hill Road + Frontal Labotomy + a bit more to top of Billy T)
Max HR: 174bpm
Average HR: 125bpm
Calories consumed: 22,000 (Has the Edge has gone berzerk? It clocked me at over 2000 cals in the first hour of both rides that went up the above!)
Biggest roll-off ever ridden: The one on Old Chevy (which I rode blind!)
Biggest launch ever: The one on Old Chevy (yes, I don't jump off stuff normally. It's not that this was a large jump, but it was top of a down-slope so flight time was more than I was used to)
Best trail ever: Split Enz + Pondy Downhill (best ridden trying to loose, or keep up with, Supagav!)
Phew. And on the 7th day (after the longest ride of the week, naturally), the Yeti had a very well deserved rest. After performing flawlessly all week: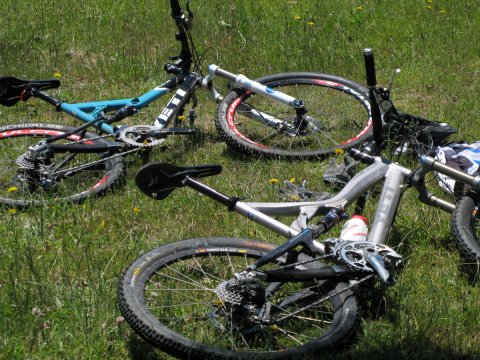 P.S. Few of my fave shots from the week:
P.P.S. Garmin Connect thingies:
Day 1:
Day 2:
Day 3:
Day 4:
Day 5:
Day 6:
Day 7: