You are hereSustainable Mountain Biking in NSW - Management Strategies for NPWS Discussion
Sustainable Mountain Biking in NSW - Management Strategies for NPWS Discussion
---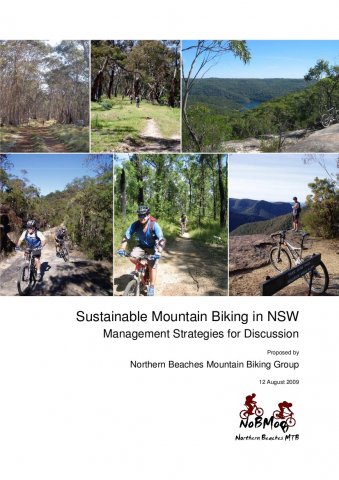 As some of you may have read, Mike Baird is helping mountain bike riders with issues they have been having with regards access in National Parks, and particularly here on the Northern Beaches (Mike's electorate of course, which is where his interest lies).
As the press release linked above points out, yesterday Mike met with Carmel Tebbutt (Deputy Premier, Minister for Climate Change and the Environment, and Minister for Commerce) to discuss these issues.
I was privileged to attend this meeting and put the case for mountain bike riders in the discussion. We as a group should also be very thankful that certain individuals are so generous with their time as to support these efforts and produce documents like the Oxford Falls Submission.
To support the meeting agenda yesterday these tireless authors again came up with another outstanding document on sustainable riding practices and strategies for an amicable way forward. Copies of this were handed out at the meeting and have linked a soft copy here for reference:
Sustainable Mountain Biking in NSW - Management Strategies for NPWS Discussion
Massive thanks once again to Mike and his assistant for their support and everyone else involved in this.
As for the meeting... In my view it went very well and was very positive. We are awaiting clarification on a couple of points but hopefully there will be some nice news to report shortly. Stay tuned!