You are hereNoBMoB Response to Oxford Falls Regional Crown Reserve Plan of Management
NoBMoB Response to Oxford Falls Regional Crown Reserve Plan of Management
---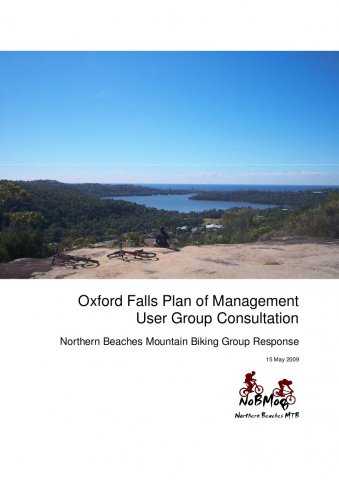 As discussed in the forum (http://nobmob.com/node/8862) I was contacted by an environment consultancy asking for suggestions or recommendations for a proposed Oxford Falls Regional Crown Reserve POM.
Thankfully a few fellow NoBMoBers stepped up to help and put in plenty of effort and a couple of late nights too.
Attached is the result of our labours which I've just sent off in response:
Oxford Falls Plan of Management User Group Consultation - Northern Beaches Mountain Biking Group Response
Thanks for the help and let's hope something good comes from this. If nothing else at least we've now got a document that shows the massive demand and woeful provision for riding in the Northern Beaches.