You are herePerimeter + Long Trails
Perimeter + Long Trails
---
NB:
This content is part of our wiki-like trails DB. If you feel it can be improved
Login
or
register
to make your contribution.
'Classic' Terrey Hills ride from shops to end of Long Trail and return.
Park at the usual meeting point and ride past the RFS station bearing right.
You'll cross by the side of a playing field and onto Cowrang Ave. Turn left and roll down here, bearing right down Nerang Ave to the trail head.
This is the start of the dirt. Enter the track which takes a 90 degree turn left almost immediately.
Follow this along for 6.22km. There are a few side trails on the way, but ignore them. The turn for Long trail is signposted and a right turn tee junction. Take that and ride to the end of the trail where there is a nice view to enjoy: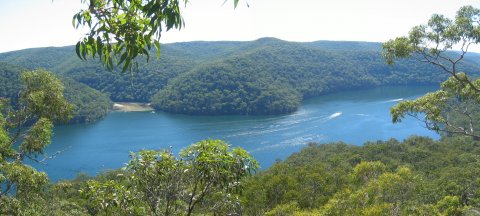 There are a couple little 'pinches' on the way out along the Long Track that beginners may find hard to ride. The last of these in particular can be very loose. Don't be ashamed to walk here.
Given the loose nature of a couple of these sections take care on the return leg. Again - there is no shame in getting off and walking where you don't feel confident to tackle the terrain, even on a firetrail.