You are hereMount Barrington Via Polblue/Barrington Trails
Mount Barrington Via Polblue/Barrington Trails
---
NB:
This content is part of our wiki-like trails DB. If you feel it can be improved
Login
or
register
to make your contribution.
Beautiful firetrail route through native forest in Barrington Tops National Park. Don't expect a view at the end of this though.
Head 1.5Km West from Polblue camp ground and one should come across Polblue Trail heading south...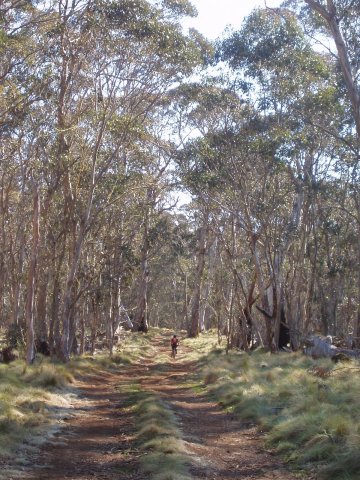 Follow this and keep on going. Polblue itself is around 4.75Km long, after which it joins the main Barrington Trail so turn right there.
Barrington Trail continues South and splits about 700m after the junction with Polblue. When we were there Mount Barrington was signposted on the right so followed that although if you believe the topo both routes lead there.
There is just one more junction on Barrington Trail before it's end. A distinct left 'T' heads off to Junction Pools/Hole - don't worry about that and keep on going through the gate ahead.
Eventually then, after about 16Km, you will come to the end of Barrington Trail. The peak of Mount Barrington is up a short, overgrown track but isn't very interesting.
Have a rest and a bite to eat then turn round and head home.