You are herePete B's blog
Pete B's blog
---

Here's my race report that I wrote for our race team facebook team. **I've been mainly road riding for the last year as driving to trails to go mtbing became tiresome so it's a predominantly roadie team.**
I nearly didn't do this race, bring diagnosed with cellulitis 48 hrs before the start wasn't ideal but against medical and the wife's advice I did it anyway!
A very early alarm call started the day, followed by a 2 hour drive to St Albans. This is the worst part of mountain biking when living in the city - no trails nearby.

After being happy with last years result but feeling I could do better, I immediately ramped up my training. I joined a group of roadies and trained with them during the week and rode the mtb on the weekends.
The training definitely paid off as my results show.

What a race!
First thing was the goodie bag, socks, bottle, stem cap, free beer at the hotel, not essential but a welcome addition and a way to make you feel like you're goetting value for money - thanks
Start was good and I seeded myself mid pack of the 2nd wave which was perfect for my pace. There was very little passing in the first 25km as everyone was well suited on the climbs and the singletrack. This meant that there was no traffic even on the stairway to heaven.

First podium for me, thanks to Adam and my bro for a great effort and consistantish times.
5 laps of (according to Strava) sufferfest round some of Wingello's finest singletrack.
Great organization, great trails and great people, anyone who's not done a S.M.S. race is missing out, get yourself entered for a cracking days riding.

Really happy with my result this year. The extra training I've been doing since before Christmas has paid off.
I knocked 30mins off last years time and didn't suffer from cramps.
Gonna keep the training schedule up and hope for a decent race season this year.

Great race on a great course. Looking forward to next year already. It's a shame the trails are so far from home as I'd love to ride them more.
Maybe a skills test is needed for anyone starting in wave 3 or above though. The first 15km were so frustrating because of guys who obviously had the fitness but no skills and walked any obstacle bigger than a marble. It wouldn't be so bad if they moved to the side to let people who were still riding past! *Rant over

*

Single track was damp but improved throughout the day. The firetrail was quite sketchy and very wet in places.
Made for a great race.
Thanks to all involved for organising and thanks to Staffan for the tyre, I'm going to leave it on for a while, I quite liked it.

This was my first full marathon and I was excited but nervous. After getting to Canberra late Friday night (bloody M5 traffic!), registering, checking in at the hotel and catching up with Andy it was 11pm by the time I got to bed.
This definitely didn't help the nerves but I needn't have worried, by the time we got to the start line Saturday morning I was feeling great. I placed my self in the middle of the 5th wave and set off, waving to wife and child as I crosed the line.

Cold, wet and muddy but still a great introduction for me into (half) marathon racing.
I'm happy with my result and even though earlier I was saying "never again", I'll be back next year to better my time. Hopefully next time without the cramps in the final climb.
Edit: Not sure if I have my position correct. In the list of everyone in my class, I'm 29th, but when I click on my name, it says I'm 43rd. Below that, it says 'time in'. I presume this is overall positioning?
Edit 2: Position sorted now results are in.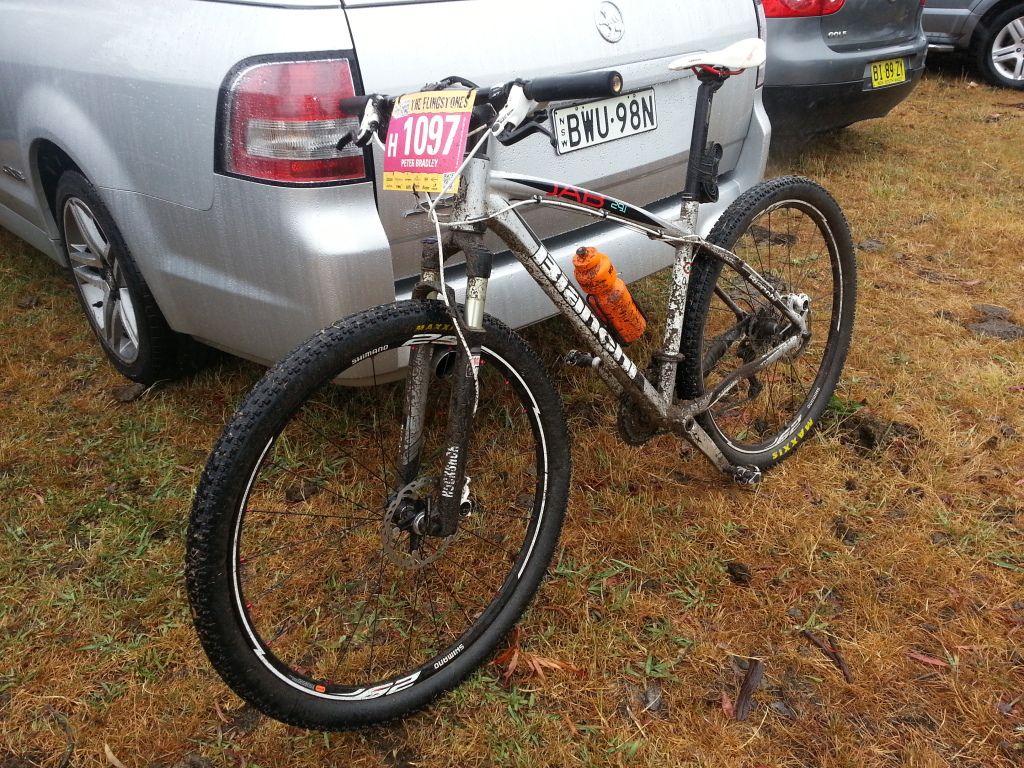 A few weeks ago I bought a new wheelset, nothing outrageous, just a decent set of XT 29ers. Of course, I weighed them against my old wheels before I fitted them and found that I'd saved about 300g. This then lead me to remember I still hadn't done anything about my knackered BB and maybe if I replaced that, I could save a few more grams. I searched around and decided that the best thing to do was buy a whole new crankset, again, nothing outrageous, but an upgrade all the same. A few days later, it arrived with a sticker saying "HGX chain only".