Second round of MTB Discussion paper forums
---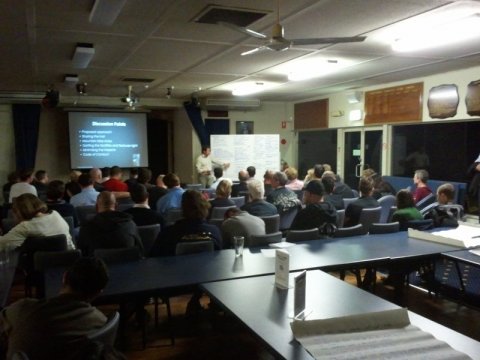 All, there is some disappointing news to share here, but perhaps we can turn it into a positive.
It has come to my attention that the Colong Foundation has questioned the validity of forums NPWS set up last year as part of the submission process for their mountain bike discussion paper[1].
... The Colong Foundation for Wilderness has today called for the results from these public meetings to be thrown out and for National Parks and Wildlife to explain why it granted such a sensitive task to a mountain bike advocate and who is also involved in building tracks.

Mr Anthony Burton, the facilitator of the bike forums for National Parks and Wildlife appears to be a mountain bike advocate and consultant...
NB: It seems NPWS will only put on these forums if there is enough demand. So I would discourage people from contacting NPWS to confirm their attendance in the hope some of these meetings might not even happen. Call your local NPWS office or the venue a few days before the meeting you'd goto and confirm if it is on if you are interested in attending.
That aside, you note that the complaint has no issue with any written submissions made, so we are safe in that regard as it is widely know the overwhelming majority of written feedback was for sustainable trails.
Of course it is imperative that NPWS show no bias to either side in this debate. It is my personal belief that no bias was shown to either side by the facilitator in the meeting I attended. Members of the Colong Foundation were present and vocal. They were given ample chance to talk and write comments on the butchers paper around the room, just as all other members of the public present were. This situation was repeated in other forums from what I hear.
That said, I can see the point the Colong Foundation make above that a truly independent facilitator with no links to either side is required. While I witnessed no bias, the chance of bias may have existed and this cannot be allowed to happen. Thus, sadly again, I can see why a second round of meetings is necessary in order to completely remove any doubt in the minds of either side that preferential treatment has been given to either.
From what I can tell, this second round of meetings will be run by a facilitator nominated by conservation groups. I guess in this case they think two biased rounds may make for a more unbiased outcome? Of course, that would be true of the Colong Foundation were not calling for the first round to be thrown out, which they are. I find this rather hypocritical. Even more so when it is clear that the second round of forums has been kept quiet.
All that said, we now know of the second round, and these will be public meetings and I would encourage anyone with an interest in these to once again attend, be polite, make your points and correct any misinformation that may be raised.
This is where the positive lies... most of the opponents of sustainable riding are confused about what it means and what mountain bike riders are asking for. Many even confuse mountain bikes with motor bikes! Here is an opportunity to be at a meeting when such confusion is bound to be present, where one should be able to raise a hand and politely explain that mountain bikes are no motor bikes, that mountain bike riders want to conserve the environment as it is in their best interest to do so, that poor planning and rainwater are the main causes of erosion, not traffic on wheel or foot for that matter, etc, etc.
The forum dates I am aware of are below. Make your choice and attend as you see fit:
Update: Some of these meetings have been cancelled due to lack of interest. Looks like the people who caused the stink have no backing from the community.
Springwood: Monday 14th February 6-8pm, Springwood Country Club, Hawkesbury Rd Springwood.
Newcastle: Wednesday 16th February 6-8pm, Kahibah Bowling Club, 63 Kenibea Ave Kahibah. Cancelled
Nowra: Monday 21st February 6-8pm, Nowra Showground, West St Nowra.
Jindabyne: Tuesday 22nd February 6-8pm, Quality Horizons Resort, Kosciuszko Road Jindabyne. Cancelled
Port Macquarie: Thursday 24th February 6-8pm, Port City Bowling Club, 4 Owen St Port Macquarie. Cancelled
Turramurra: Monday 28th February 6-8pm, Turramurra Bowling Club, 181 Bobbin Head Road Turramurra.
Sutherland: Tuesday 1st March 6-8pm, Sutherland United Services Club, 7 East Parade Sutherland. Cancelled