---
Trail Advocacy/Building

When:
Saturday, 15 August, 2009 - 09:30
Meeting Point:
Rangers office carpark on Farnell Ave. This is the second turnoff you'll come to right at the top of the hill down to Audley.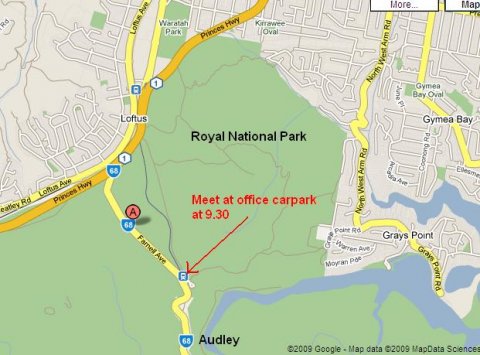 This is a trail maintenance day at Royal National Park Aug 15.
Tea and coffee will be provided, but people should bring snacks for morning tea if they like.
If you are interested in helping out please contact the rangers via email for more details and to confirm your attendance:

When:
Tuesday, 18 August, 2009 - 18:30
6 Magdala Rd, North Ryde, NSW, Australia
This is not a ride, but everyone who is interested in riding in Lane Cove National Park should attend!
Please register your attendance (name and number of people) by COB 14th August to either:
lanecove.pom@environment.nsw.gov.au (preferred)
Tel: 02 8448 0400
It is a public session being run by NPWS where they will be discussing the review of the current Plan of Management. A show of support for riding in the park would very much help the cause.

When:
Sunday, 30 March, 2008 - 10:00
Meeting Point:
Cootamundra Reserve, Cootamundra Drive, Allambie Heights. This is this childrens playground area that you ride past next to the bridge.
From the Rangers:
Hi all, I am organising a volunteer trail day at Manly Dam for Sunday the 30th March 2008. Details are as follows:

Time: 9am- 12pm Sunday 30th March. A BBQ will be provided afterwards in picnic area 1.
Meeting place: Updated 9am at Cootamundra Reserve, Cootamundra Drive, Allambie Heights.
Wear: comfortable protective clothing, hat, sturdy shoes, sunglasses/eye protection.
Bring: drinking water, morning tea, suncream.
Contact: 0409 773 097 (02) 9949 3235