Menai (Lucas Heights) Closed to the Public
---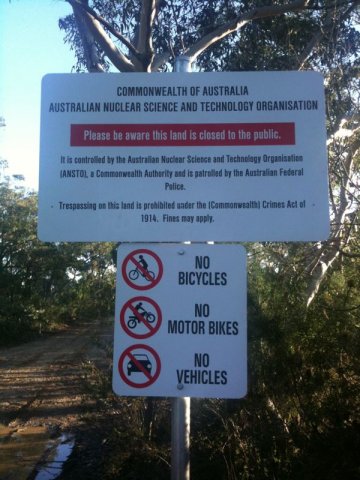 Terrible news for MTB riders: The area at Menai (aka Lucas Heights) has been closed to any kind of public access, which of course now means MTB riding there is banned.
This looks to be a very serious move, with signs erected and riders reporting federal police are now patrolling the area.
Sorry to report this everyone - it was a great area

See MENAI (LUCAS HEIGHTS) is officially OFF LIMITS to MTB's thread for more info.
Update 4/7/11: Having spent all day chasing the matter, Steve Mowle has managed to convince the ANSTO management to meet with Mountain Bike riders to discuss the use of Menai. This is an outstanding achievement. Please show your support and attend the meeting if you can - see ANSTO/Rider Meeting (Re: Menai Closure).
Update 4/7/11: Correction: Sorry folks - this is not a public meeting. Please do not show up! Those who go will be sure to report back though.