Ever thought about entering an MTB marathon?
---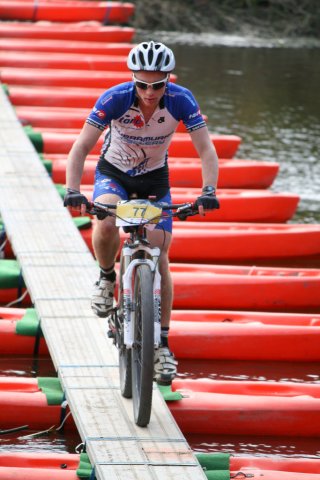 Many thanks to all the keen competitors from last weekend's Convict 100 race who took the time to blog about the event and share their stories. There were indeed some fantastic efforts and great yarns.
It's not fair to single anyone out - every participant makes an event - but is always good to share a photo so here's Tristan riding the infamous bridge. Have a look at Cycologically Challenged! to hear how he went.
Great to see so many riders keen to share like this, and so many comments of appreciation, encouragement and congratulations. This is what MTB is about to many - a huge challenge out in the (relative) wilds with mates and strangers alike. Strangers who, after a ride along the Woomerah Range, somehow you will have a special connection with forever. If you've been there, done that you know exactly what I'm talking about!

For those not sure about trying an event like this, take a look at the blogs on the Convict 100 2014 page. Just don't be put off too much. Remember: nothing worth doing in life is ever easy!
Also remember that blogs like this build into a handy reference of event results in a tab on your profile and you don't have to write an essay to do that.